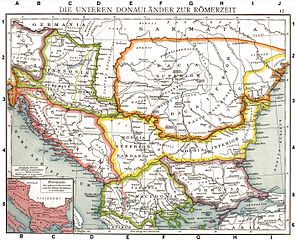 Hello and welcome to my first blog post launching the newly redesigned Marching With Caesar® website! Along with the redesign, I'm going to be making a departure from what I started last year on my blog, telling a story that ended up being the book Caesar Triumphant. Instead, I'm going to be talking about topics relating to the subject of my books; Rome, Caesar, the Legions, and the events that have had such an impact in shaping our modern world.
And I'm going to start by talking about the upcoming trip I'm taking later this month to Eastern Europe, to the countries formerly known as Illyria, Pannonia, Dacia, and parts of Thrace. My purpose is simple; because of my financial circumstances, when I was a struggling writer living off the proceeds of my Marine Corps pension, in my 37 foot travel trailer on the Olympic Peninsula, I was unable to physically walk the ground of the country that Titus Pullus, Vibius Domitius and the other members of their tent section covered, as part of the 10th Legion and the army led by Gaius Julius Caesar, on his epic conquest of Gaul. Back then in 2008-2011, I had to make do with using Google Earth, and while it was an extremely valuable tool, I am at heart still an old military man, and there is no substitute for eyeballing the terrain in person. And now, because of the success of the Marching With Caesar® book series, I am able to see the territory that will be an integral part of the next phase of the series, featuring the descendants of Titus Pullus.
Specifically, the next phase of the Marching With Caesar® book series will cover the beginning of the career of the man who would become the second Emperor of Rome., Tiberius Claudius Nero. But I will also be telling a story of the "other" Nero, Tiberius' brother Drusus, who from the accounts of the day seemed at least as well, if not better, suited to be the real inheritor of Augustus' mantle. Although this next chapter of the saga won't be as speculative as Caesar Triumphant, which imagines a world where Caesar not only survives the Ides of March, but goes on to march across the world to invade Japan, if I leave readers wondering, "I wonder what might have happened if Drusus had lived?" I will be content with that.
But first, I have to walk the ground, and my hope and plan is, using the wonders of the Internet, which I've heard has made it all the way into the wilds of Thrace, posting about this part of the Roman Empire, complete with pictures! So I hope that you're looking forward to this adventure as much as I am, and you'll be checking back often!